Hi, I have a problem with my scrolling marquee (text-scrolling) center-panel, it's not showing the right scrolling text-message for different user-rights (public and members). And even the panel's name is not showing up.

Here, the panel is showing both messages for public and members when it should be only for members, ie. for non-public users (as I'm looking at it as an Admin here) . The blue texts is for public message, while the green is for members and admins. The panel is showing a scrolling texts for the public (blue texts) but the members' green texts are static, no scrolling...

In member/admin mode ...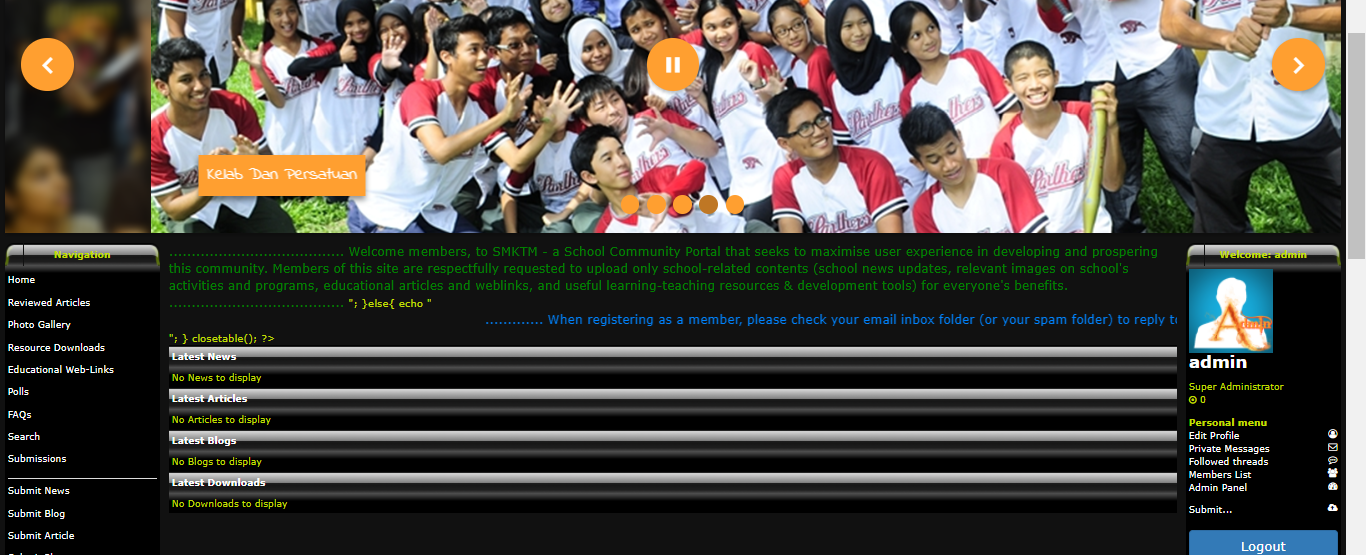 In public mode, its also showing the same message ...



Website : https://smktm.000webhostapp.com/

The codes I'm using are the same as in the previous version for Fusion 7 which worked fine but not in Fusion 9. In fact for Fusion 7, I had 2 scrolling marquees for admin users where they could see both members and admins messages ... both using these same codes and only changing the (iMEMBER) to (iADMIN). Am I missing some key codes to make this panel work on 9?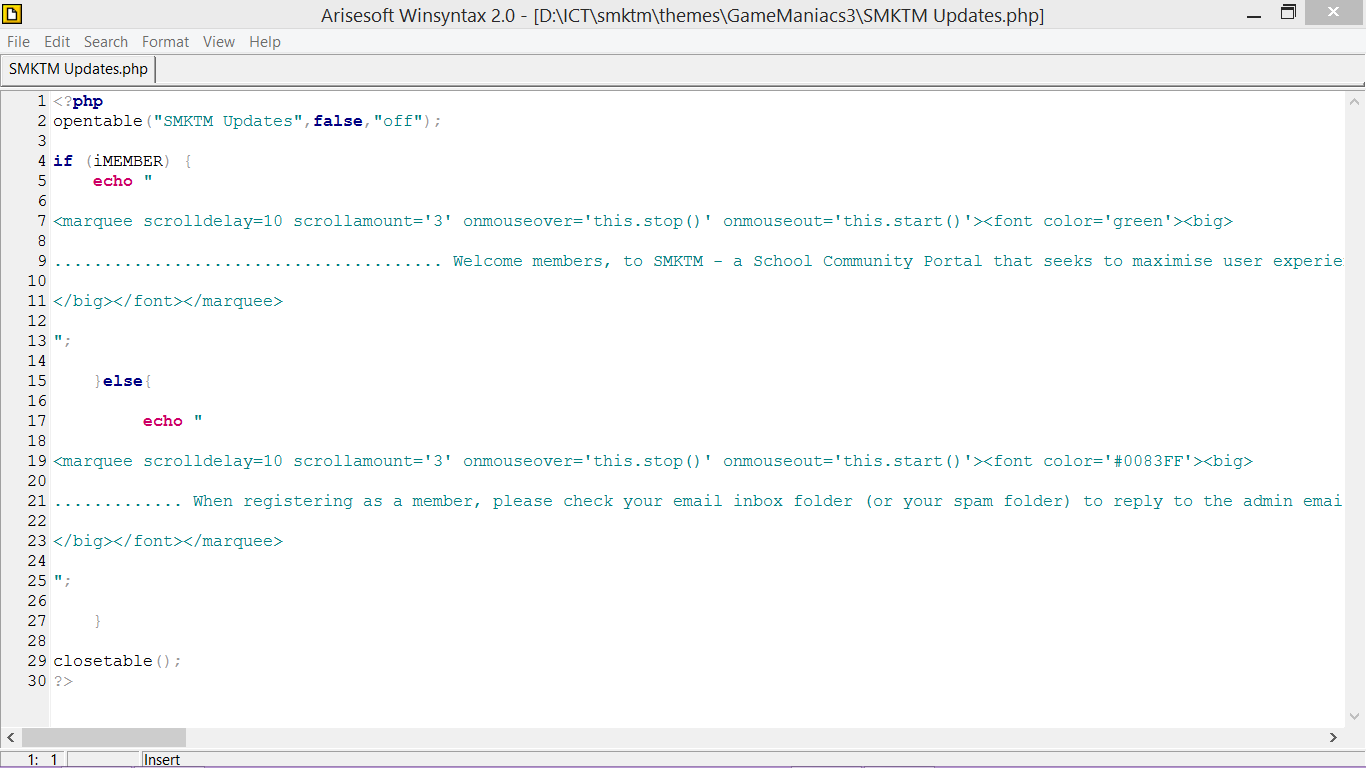 <?php

opentable("SMKTM Updates",false,"off");



if (iMEMBER) {

    echo "



<marquee scrolldelay=10 scrollamount='3' onmouseover='this.stop()' onmouseout='this.start()'><font color='green'><big>



....................................... Welcome members, to SMKTM - a School Community Portal that seeks to maximise user experience in developing and prospering this community. Members of this site are respectfully requested to upload only school-related contents (school news updates, relevant images on school's activities and programs, educational articles and weblinks, and useful learning-teaching resources & development tools) for everyone's benefits. .......................................



</big></font></marquee>



";

        

    }else{



         echo "



<marquee scrolldelay=10 scrollamount='3' onmouseover='this.stop()' onmouseout='this.start()'><font color='#0083FF'><big>



............. When registering as a member, please check your email inbox folder (or your spam folder) to reply to the admin email verification process. ............. This site is best viewed with Google Chrome .............



</big></font></marquee>



";



    }



closetable();

?>


I've also tried substituting the "if (iMEMBER) { }" commands with "if (iMEMBER && $access == "iMEMBER") { }" and "if (checkgroup($access)) { }", following some suggestions in this forum thread ...
https://www.mail.php-fusion.co.uk/for...d_id=28114
but both didn't work, and the panel display remained the same with no scrolling texts for member's user_rights.

Is there now a totally different way of writing codes for all panels in Fusion 9, rendering those codes which worked fine on Fusion 7 unusable if not rewritten? I've got a lot of version 7 panels which I'd like to use on 9. Would really like to go public with this new version ASAP when all panels can be fully updated/migrated, hope its an easy ride :|

Thank you in advance for the assistance, guys :)